Options beyond expectations
Colors


Select the perfect neutral shade to match your home's decor with Mirasol.
Meet Your Match
Sometimes the standard color range just doesn't quite suffice. If your design requires a custom color beyond our eight neutral selections, Classic can be painted in almost any light shade. The process is simple: submit a color from any of America's nationally recognized paint companies, and we'll match it. We will have a sample mixed and sprayed onto a shutter slat, then send it to you for approval.
Custom painting opens the door to nearly infinite color possibilities. Please remember that this option is limited to light colors only, and an additional cost applies. Sorry, dark colors are not possible.
Gorgeous Frames
More than gorgeous to look at, Mirasol's beautifully crafted frames make installation a snap. Because we build each frame to your window's specifications, you can count on a custom-quality fit. T-posts and divider rails allow us to accommodate any window size with a sturdy, built-to-last frame. Choose an elegant L-frame or Z-frame to complete the look of your Mirasol Shutters.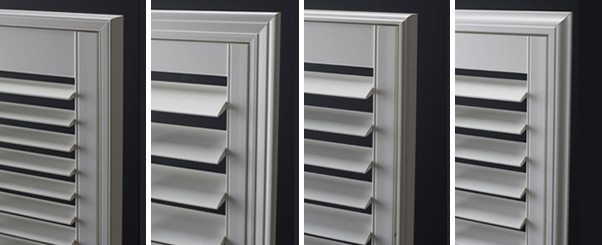 Louver Sizes
With three louver sizes to choose from, Mirasol lets you achieve the perfect balance of light control and privacy.